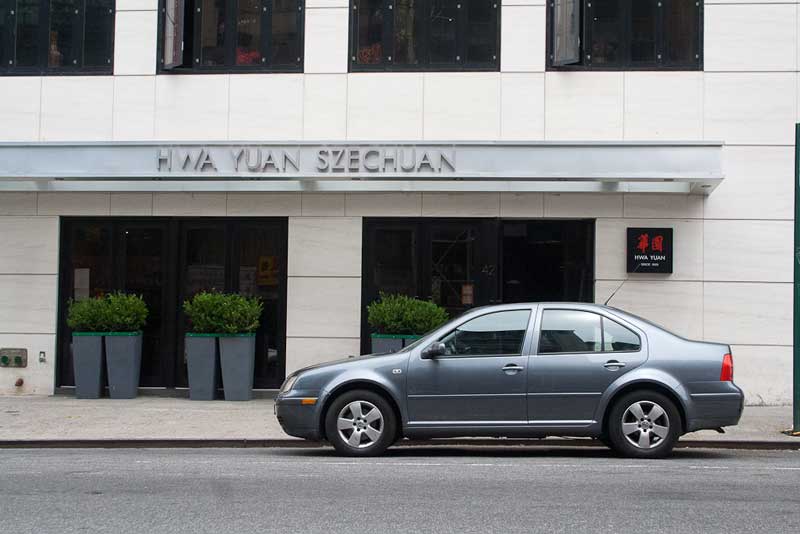 Hwa Yuan Szechuan
42 E Broadway
New York, NY 10002
(212) 966-6002
Hwa Yuan is one of Chinatown's original pioneers of Sichuan cuisine. The restaurant opened in 1968, closed in 1992, and was reopened by the same family in 2017. In its heyday, local New Yorkers and celebrities alike flocked to Hwa Yuan for its signature dish – cold sesame noodles.
Hwa Yuan's first proprietor was Chef Yu Fa "Shorty" Tang. Originally from Sichuan province, he fled China after the communist takeover in 1949. He worked as a banquet crew member for Chiang Kai-shek, the recently ousted leader of the Republic of China, in Taiwan where the government re-established itself. In Taiwan Shorty learned of ma jiang mian, a local hot and spicy noodle dish flavored with sesame which would later serve as the inspiration for his cold sesame noodles. Shorty arrived in New York after the passage of the Hart-Celler Act in 1965. With Hwa Yuan, he set out to serve a new style of Chinese American food, different from the Cantonese-inspired dishes that defined the cuisine.
While most sesame noodles served at Chinese American restaurants seem to be overly dressed in peanut butter, Shorty's version was more complex. Covered in a special mixture of soy sauce, peanut butter, rice wine, black vinegar, chili, scallions and sesame oil, the resulting dish was sweet, tart, slightly spicy, and refreshingly cold, Sam Sifton, former food critic for The New York Times, said it best: "his sesame noodles were soft and luxurious, bathed in an emulsified mixture of sesame paste and peanut butter, rendered vivid and fiery by chili oil and sweetened by sugar, cut by vinegar, made fantastic by technique." But more importantly, "they represented one of the great steps forward for Chinese food in the US in the post-chop-suey era: away from bland monotony and toward real complexity of flavor." Thanks to Shorty, cold sesame noodles went on to become a staple on Chinese American menus across the country.
Hwa Yuan's new owners, Chen Lieh Tang and James Tang, Shorty's son and grandson respectively, mean to carry on Shorty's legacy. They are determined to prove that Chinese American food does not need to be covered in thick, starchy sauces, and is so much more than what Americans have come to expect. A good way to experience the contrast in dishes is to order the mapo tofu, a delicious combination of silky tofu and ground pork bathed in a numbingly fiery chili sauce.
Jean Nihoul
Spicy chili bean paste, numbing peppercorn, hot red oil, and just a garnish of ground meat cover silken tofu in what might be the Sichuan cuisine's most recognized dish, mapo tofu. "Pockmarked woman's bean curd," as it translates, refers not to the uneven look of the sauced tofu, but — according to one version of the story — to the inventor, a woman named Chen, whose restaurant in the 1860s catered to laborers working near the province's capital of Chengdu. Using typical ingredients of the region like doubanjiang, fiery peppers, and floral Sichuan peppercorn, as well as beef, mapo tofu soon became a favorite.
The name stuck as word spread, and the recipe was adopted in restaurants throughout the region. In the U.S., it originally gained recognition in dedicated Sichuan restaurants, but it is becoming increasingly available in places that serve more general Chinese and Chinese American fare. Usually these versions are simpler, with less spice or with pork instead of the more traditional beef; be sure to seek out a rendition that shows off the complex balance of flavors and textures making up this comforting dish.
Tammie Teclemariam