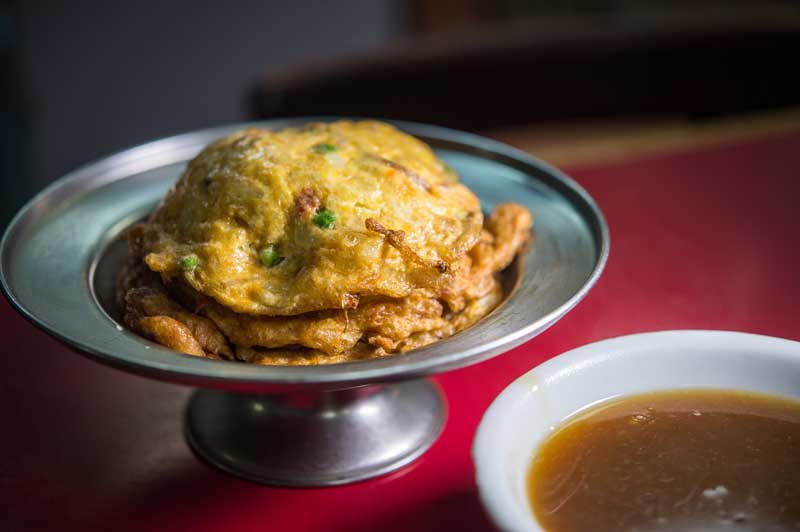 Wo Hop
17 Mott St
New York, NY 10013
(212) 566-3841
Down a flight of stairs from street-level is the storied Wo Hop dining room. Operated by the Huang family since 1938, Wo Hop is one of the oldest restaurants in Chinatown. You won't find any mapo tofu, soup dumplings, or Peking duck on the menu here. Instead, Wo Hop serves the old-school, Cantonese-style dishes made popular long before any other regional Chinese cuisine made its way to New York. This is the place to come when you're craving classics like chop suey, moo shu pork, and egg foo young; or as former New York Times food critic Sam Sifton called it, "an authentic taste of an inauthentic past."
Wo Hop's egg foo young is a standout amongst an extensive menu of Chinese American dishes. Culinary historians speculate that egg foo young may have links to a Cantonese banquet dish called fu rong, a kind of custardy egg omelet. Books on American cookery show that egg foo young was first served in the US during the construction of the transcontinental railroad, when Chinese cooks would prepare the dish for loggers and construction workers.
But some found egg foo young to be a misrepresentation of their cuisine. Even Cecilia Chiang, one of the most important advocates for Chinese American food, once said: "Why ruin a perfectly good omelet with gravy, cornstarch, and oyster sauce?"
When Wo Hop's version hits the table, one feels compelled to disagree with Chiang. Served on an elevated silver platter, the lightly browned eggs are stuffed with bean sprouts, onion, and bits of meat, but maintain a light and fluffy texture. Warm, glistening gravy is poured over the eggs, lending an umami punch to the dish. Eat alone or with a big plate of chop suey.
Jean Nihoul