John Louie describes what it was like taking over the family business from his father, and how Chinatown has changed since his childhood.
Ping's Dried Beef is something of a mecca for dried meat enthusiasts. Don't be thrown off by the lack of English signage or the hanging placard inside that reads "Jung's" in English: This is the place. Ping's sells bakkwa, a type of salty-sweet dried meat similar to jerky, thought to have originated in Fujian province. Owner John Louie literally grew up in the business, which his father founded around the corner at 85 Bayard Street when Louie was three years old. In 1980, Louie moved Ping's to its current location, which he manages with the help of his wife and children.
Ping's sells two types of meat —pork and beef, salty or sweet — displayed in large glass jars labeled "oinky" and "moo" in an eclectic apartment storefront. The spicy moo is the most popular, and consistently sells out despite relatively high prices; Louie uses beef short rib with a good balance of meat and fat, and processes all of the meat daily in his own shop. The result is exceptional: soft, delicate, well-seasoned strips with a tender, chewy consistency.
Megan McGowan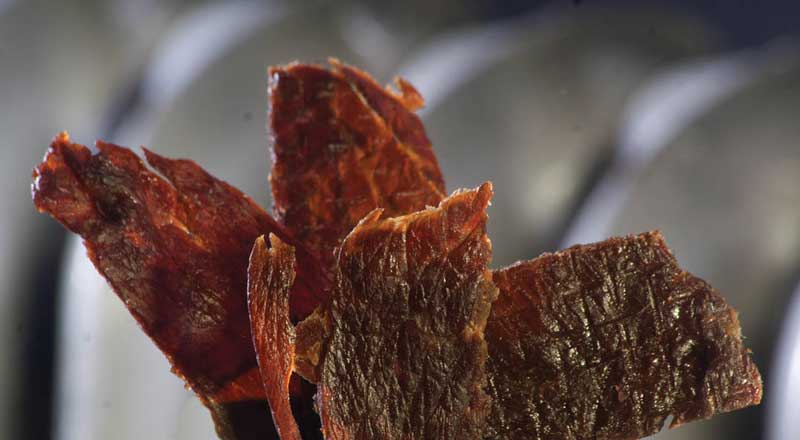 While it now enjoys widespread popularity in Singapore and Malaysia, bakkwa (dried beef in Fujianese) was first enjoyed in Mainland China. It may have originated as a way for poorer people to preserve meat, a luxury food item. This may be why bakkwa has become associated with Chinese New Year dishes celebrating abundance.
To make the meat shelf stable for extended periods of time, bakkwa is thinly sliced, marinated in sugar and spices, air dried, then cooked over a hot plate. It can also be made using ground meat, which is spread on a tray to achieve a similar thickness as the slices, with the remainder of the preparation kept the same. This technique has remained mostly unchanged over the centuries; however, today's bakkwa tends to be sweeter and more tender than its original counterpart.
Jean Nihoul